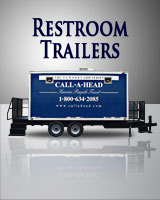 Whether your rental need is for a necessity at the construction jobsite, a formal event or movie shoot, CALLAHEAD portable restroom trailers are the best in New York.
Our restroom trailers are fully mobile, yet operate and feel as if you are using a bathroom connected to a domestic water line.
Additionally, all of CALLAHEAD portable restroom trailers have flushing toilets and full service sinks.
Every restroom trailer rental from CALLAHEAD arrives standard with all the luxury amenities included, such as our Headliner toilet seat covers and Headmist air freshener. We have restroom trailers perfect for more formal affairs with faux mahogany, faux marble and beautiful vanity sinks.
Many of our restroom trailers have separate men and women bathroom facilities. Both interiors have separate stalls with lockable doors. Flushing urinals with privacy dividers are available in the men's restroom trailers.
Handwashing sinks with hot and cold running water, air conditioner, thermostat heat and stereo system are standard with some of our restroom trailer rentals.
We also have temporary restroom trailers that are solar powered and need no electrical connections to operate.
Renting for Construction sites, emergency or disaster relief situations, weddings or corporate parties and events, CALLAHEAD's restroom trailers are the cleanest and highest quality bathroom trailers in New York, and will be sure to please!