CONSTRUCTION and CONTRACTOR'S PORTABLE TOILETS
Portable Restroom Trailers, High Rise Building Construction Toilets and Mobile Portable Toilet Rentals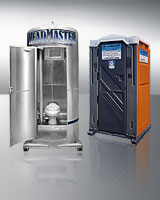 All of New York's construction workers and contractors know that CALLAHEAD portable toilets are by far the best porta potties for their temporary portable toilet needs.
CALLAHEAD not only delivers brand new equipment quickly and professionally, but all rentals come with the best cleaning service in the industry, that is guaranteed.
It is common knowledge to all New Yorkers who rent portable toilets that the #1 choice is CALLAHEAD portable toilets.
For nearly 40 years we have been providing construction jobsites with the largest variety in portable toilets with rentals, accommodating every budget without compromising on our great service. We are the only company in New York that has the experience and resources to provide long-term portable toilet rentals with guaranteed service that is thorough and always sanitary.
Don't be fooled by the sales pitch of other companies. CALLAHEAD has the cleanest portable toilets and is the #1 porta potty rental in the field!