SERVING THE NEW YORK METRO AREA: FROM MANHATTAN TO WESTCHESTER, TO MONTAUK, LONG ISLAND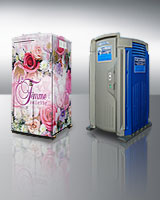 CALLAHEAD portable toilets are the most rented porta potties in all of New York for many reasons. We are the only company in New York that provides like-new high quality portable toilets. We have a guaranteed cleaning service with our trained service technicians that will clean your portable toilet perfectly every time, using only the best cleaning supplies and chemicals available.
CALLAHEAD has the largest variety of portable toilets including more one-of-a-kind units you won't see anywhere else. We made a commitment to the portable sanitation industry to develop and evolve the industry, as we have continuously done since 1976.
CALLAHEAD portable toilet rentals receive the most positive reviews of all other New York portable toilet companies combined. Whether you rent a portable toilet for a long-term job or a short term special event, CALLAHEAD is the only company in the industry that has the ability and dedication to provide like-new portable toilets, sanitary cleaning services, and have the resources to ensure your portable toilet is delivered and cleaned when scheduled, so you never have to worry!