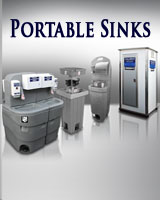 When it comes to sanitary protection and the need for portable handwashing capabilities, CALLAHEAD portable sinks are the most rented portable sinks in all of New York.
Portable handwashing sinks are a necessity at every job site or special event for a healthier environment. We have the largest variety of handwashing sinks, portable antiseptic dispensers, sink systems for office trailers and commercial grade utility sinks than any other company in New York.
CALLAHEAD has portable sinks of every possible description, with no job too big or too small. Our hand washing sinks are perfect to be placed near our portable toilets, to encourage handwashing to workers and guests for everyone's protection.
CALLAHEAD's heavy duty stainless steel commercial grade sinks easily handles the cleaning of dangerous solvents, such as cement and paint, off hands and tools at the jobsite.
Our commercial grade sinks are also perfect for outdoor food venues for cleaning large utensils, heavy duty pots and pans and cleaning and preparing food.
A Bosch Hot Water Heater is standard with our utility sinks so you will have hot and cold water at your fingertips. CALLAHEAD supplies hospital grade antibacterial soap that kills 99.9% of germs and bacteria including salmonella and E. coli with each sink rental.
We also provide GoJo hand cleaner with our commercial grade utility sinks which cuts through grease and grime better than any other hand cleaner on the market today.
Our portable sink rentals are guaranteed to give you the highest quality and sanitary protection you require and you will only receive when you rent from CALLAHEAD.